Lawn Mowing Service & Trimming | Lawn Fertilizing | Lawn Weed Control | Lawn Insect Control | Lawn Disease Management | Lawn Aeration | Lawn Power Raking (Thatch Reduction) | Sod Installation
We know what lawns need and when the appropriate application should be made to keep them healthy and thriving. With so many options for grass types, fertilizers and weed control, it can be frustrating to know which products to choose and when to apply. Whether you are looking for a single service or a complete maintenance plan, we can help you maintain a beautiful lawn.
Lawn Mowing Service & Trimming
Nothing sets off a landscape's curb appeal more than a beautifully maintained, lush lawn that has been mowed well. Whether it's your business or your home, a professionally mowed lawn can make a big difference. If you don't have the time or the equipment, let us be your personal grounds keeper.
We sharpen our blades regularly, change mowing directions weekly and mow at the right height for the time of year. We'll trim the edges neatly using blade-edgers when necessary and dispose of the grass clippings once we've cleaned up after ourselves.
If you enjoy mowing your own lawn, here are a few tips to maintaining a healthy lawn.
Most of the grasses that do best in our climate should be mowed at 3-4 inches during the warmer months. Taller grass has more leaf surface for food production which encourages root development, which lessens drought stress. Tall grass makes it more difficult for weed seeds to invade the lawn and insulates the soil better to slow down moisture evaporation.
At season's end we suggest you lower the mowing height .75 – 1 inch for the winter. The slightly shorter grass is less likely to develop winter diseases that show up the following spring and summer.
Make sure your mower blade is sharp. A dull blade rips and shreds the grass instead of cutting it. A good guideline is to sharpen your blade every four to six weeks. Try it. You'll notice the difference.
Another good practice is to change directions each time you mow. This keeps the turf growing upright and prevents developing ruts in your lawn from repeating the same mowing pattern.
Lawn Fertilizing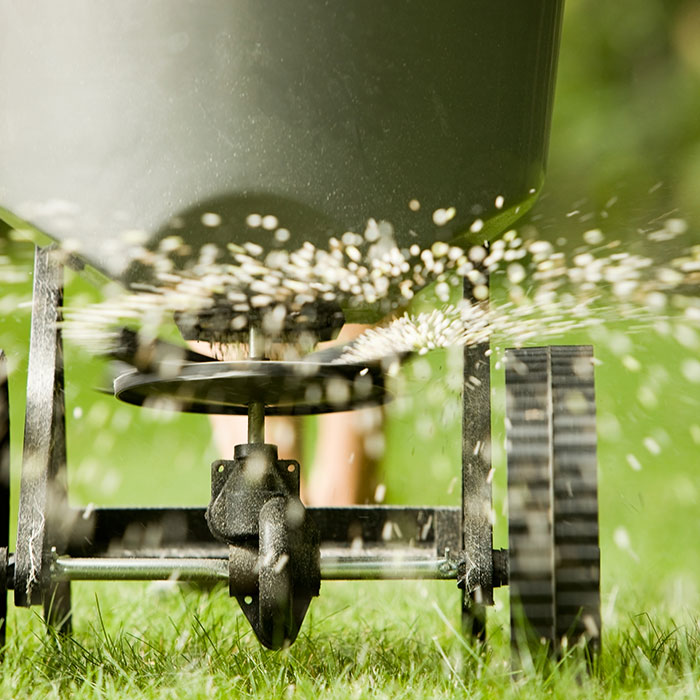 Who doesn't want a picture-perfect lawn with little effort? Regular fertilization is a necessary ingredient to a beautiful, healthy lawn. Our lawn fertilizing programs provide season-long dosages of nutritionally-balanced ingredients specially formulated to encourage good grass health to sustain vigor and fertility throughout our seasons. Applications are made approximately six to eight weeks apart, March into November.
SILVER PROGRAM – Our "Silver" program is four applications. The first application of the season contains crabgrass pre-emergent herbicide with a season starting fertilizer. Included in the treatments is a broadleaf weed control herbicide when appropriate.
GOLD PROGRAM – For our "Gold" program we've added a late fall granular application that nurses your lawn through the winter months, strengthening the grass so that it's healthier and greener when spring arrives.
Lawn Weed Control
The presence of weeds in your lawn is more than unsightly. Many weeds have flowers, attracting bees that can sting, or they may have thorns that can be a pain. If weeds are left unmanaged in a lawn, the weeds will take over.
Some common weeds in our area include: Dandelions, Clover, Bindweed (Morning Glory), Goathead, Oxalis, Plantain, Spurge, and Mallow.
By knowing the type of weeds in your lawn, their life cycle, the best time to treat them and what products work best, we can start the process of eliminating your weeds. Combine a good weed control program with proper fertilizing, watering and mowing, and you'll get the best out of your lawn. Green Baron will assess your lawn's condition and recommend the best program for your lawn's needs.
All our applications are made by licensed applicators through the Washington State Department of Agriculture.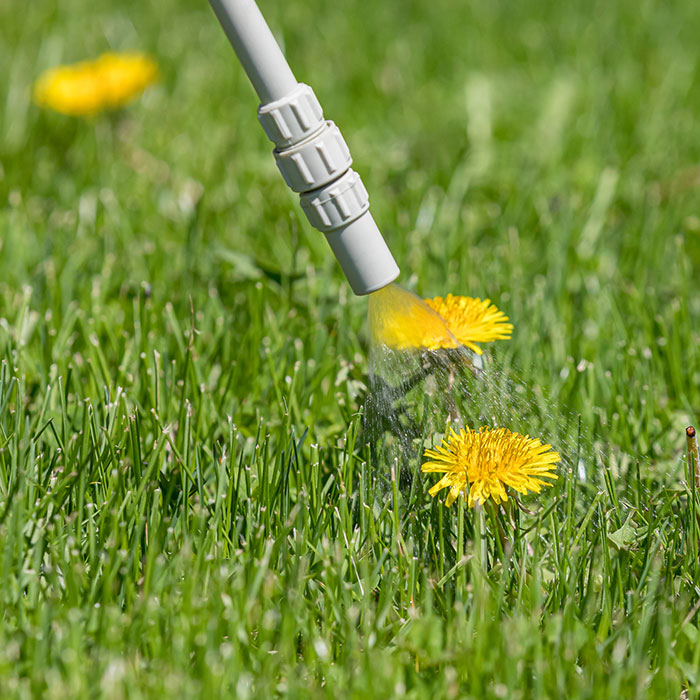 Lawn Insect Control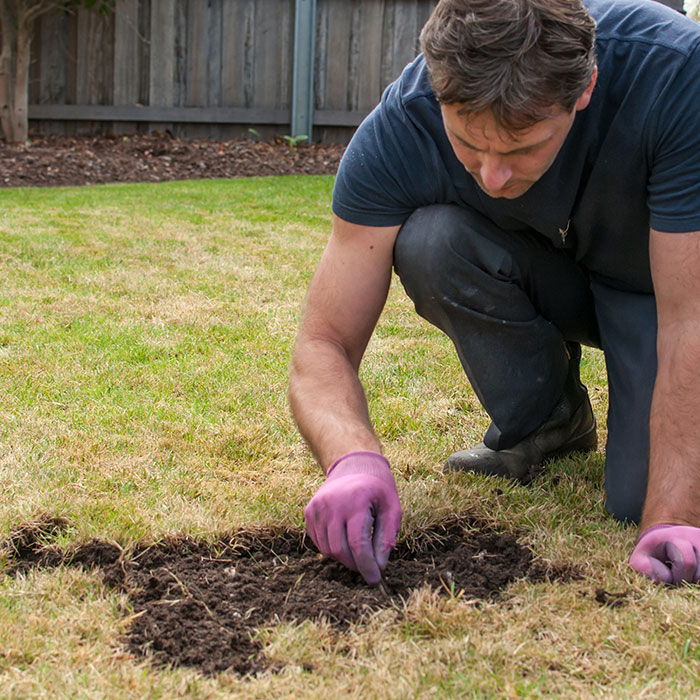 Lawn damaging insects (in their grub or larva stage) can devastate a lawn quickly. For that reason, we encourage a preventative treatment program of at least two lawn insecticide applications at the appropriate times. Usually late spring and early summer, but it can vary, depending on the pest and the weather.
Once insect damage is suspected and confirmed, control of the damaging pest is not difficult with the right products. However, by that time the turf damage can be wide-spread and even take a season or more to repair itself. Often times, over-seeding of the damaged area is necessary. It's better, and less expensive, to avoid reacting to the damage by taking measures to prevent it from happening.
Lawn Disease Management
Lawn diseases can destroy a lawn quickly. If you suspect a disease in your lawn, or see something you're not sure of, call us. We can help.
Often times, successfully treating turf diseases not only involves the applications of the right products at the right times, but may also require a change in cultural practices. How you water, mow and fertilize has an impact on whether diseases can get a start in your lawn.
Sometimes identifying diseases in lawns can be difficult and in some instances we have to send your samples to a laboratory for analysis. Rest assured; we will do our best to find a solution. Products used to treat lawn diseases are expensive and usually require multiple applications, so proper identification is critical to effective management of the disease.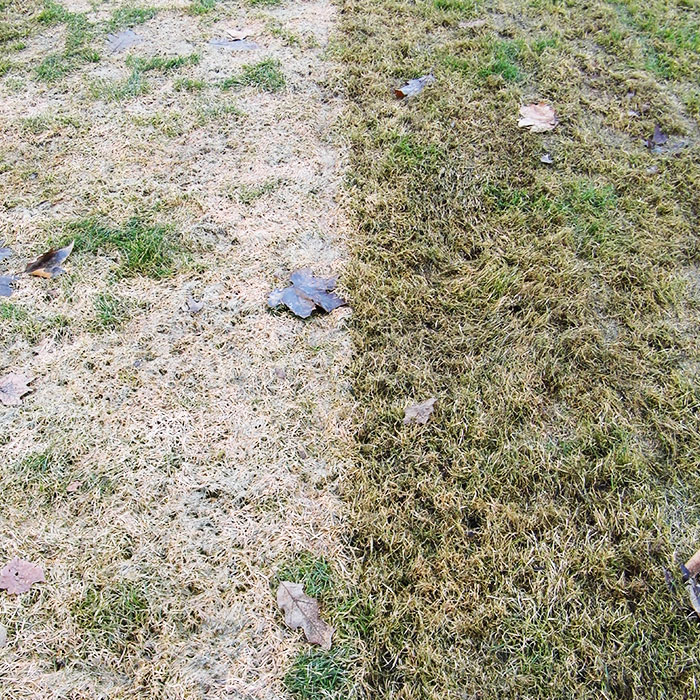 Lawn Aeration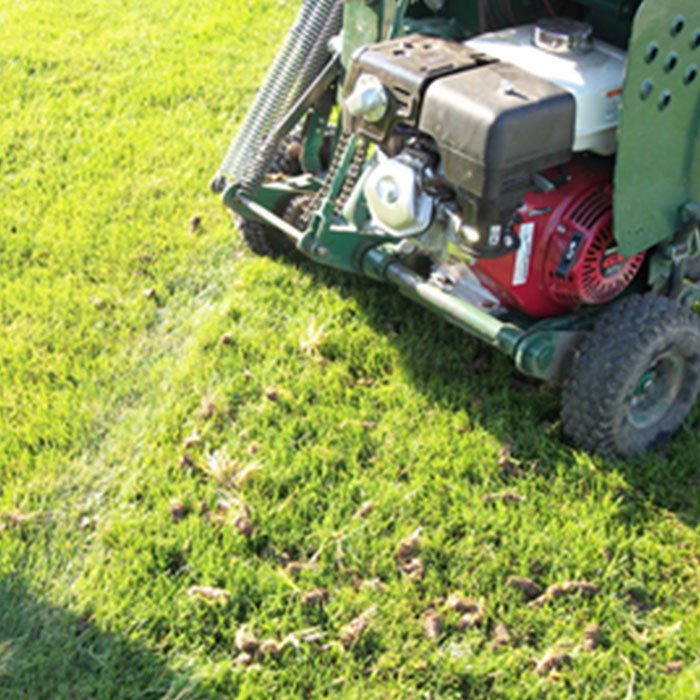 Lawn core aeration is probably one of the single best things you can do for your lawn. Removing small cores of soil from the turf helps reduce compaction and improves the ability of grass roots to expand into the soil, producing a stronger plant. The holes allow for better water and fertilizers uptake and also improve air exchange.
Our local soils can contain a lot of clay and be very compacted. We recommend core aeration annually. It's well worth it!
Lawn Power Raking (Thatch Reduction)
Thatch in lawns is the accumulation of dead grass stalks, stems and roots. The right amount of thatch is beneficial to lawns, but once it exceeds an inch or so it can become a problem. When that happens some of the thatch needs to be removed. We choose to power rake in order to remove excess thatch. Power raking pulls thatch up to the surface where it's gathered and disposed. We generally recommend that core aeration follow power raking. The holes left by aeration allow for air to circulate into the thatch speeding up the decay process and helping to keep thatch build-up under control. We will assess your lawn to see if thatch reduction is needed.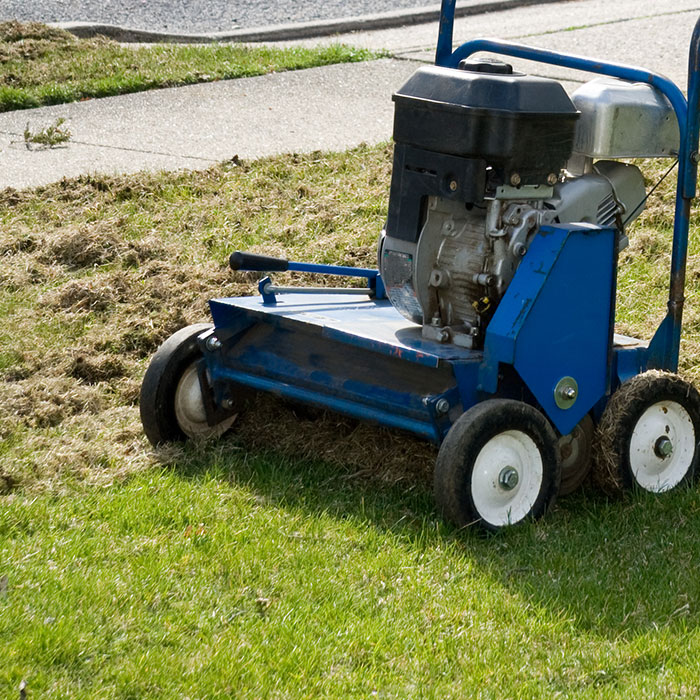 Sod Installation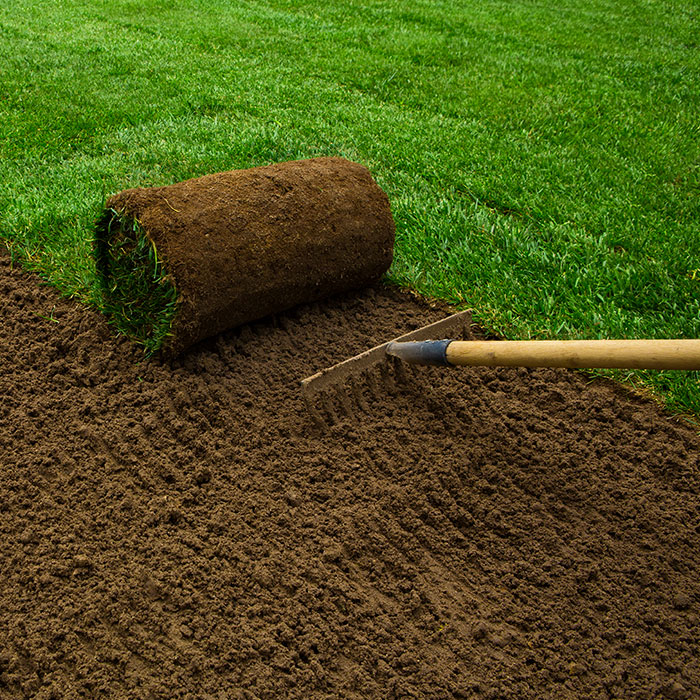 Installing sod is a labor-intensive process that has to be done right so it doesn't go wrong. We can do the installation correctly, however, if the homeowner doesn't partner with us and do the post installation steps as necessary, the outcome can be less than desired.
We take all sod install jobs on an individual case by case, selective basis. Influencing factors such as; the availability of sod, timing of year, job site location, size and scope of the job, the presence of a quality, working automated sprinkler system, all enter into whether we'll accept or decline a job.